The Conceptual Self Portrait Painting Workshop 2022
$

900.00
Sold out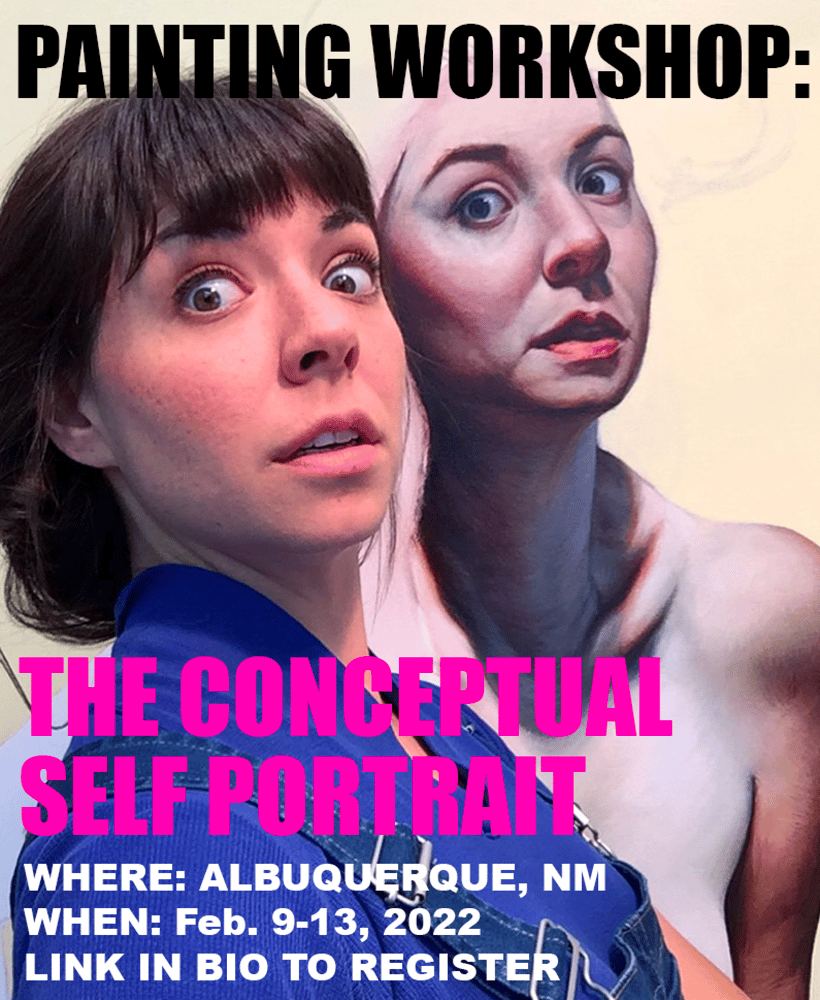 In this five-day workshop, Dorielle will teach students how to paint a conceptual self-portrait using classical and contemporary painting techniques in oils. After the portrait is rendered, she will guide and challenge students to add to, destroy, cover, and/or remove elements in the students' paintings to encourage a conceptual reveal in the portrait. This workshop will address the formal elements of representational painting (form, blocking, value, color matching, edges, proportions, and composition), but will also encourage students to cross over into the world of conceptual art using representational portraiture as a springboard.
This workshop will also be open to past students of mine to bring a painting they started in a previous workshop and finish it.
This workshop includes a lecture, a demo, and one-on-one guidance. All levels are welcome!
Dates:
Wednesday, Feb 9- Sunday, Feb. 13
Location:
Dorielle's Teaching Studio
2209 New York Ave.
Albuquerque, New Mexico 87505
Workshop Schedule:
Wed: 12-4pm: Meet and Greet, Lecture, and Photoshoot
Thurs: 10-3:30: Image transfer and Demo
Friday: 10-3:30: Representational Painting Workshop
Saturday: 10-3:30 Representational Painting Workshop
Sunday: 10-4:30 Conceptual Elements Workshop
Total spaces: 6
REFUND NOTES: Because I only accept 6 students, once a spot is filled, I cannot issue a refund.
SUPPLY LIST:
NOTE: Santa Fe has an incredible art store called Artisan Santa Fe. You can get most of your supplies here if you need to. It is not permitted to fly with solvent, so I will have solvent here.
-IPAD or LAPTOP (some sort of screen to work from)
-CANVAS (size suggestion: approximately 24"x 18") NOTE: please arrange a way to transport your paintings home bearing in mind that they will be wet.
-SUGGESTED OIL PAINTS (suggested brands are in parentheses):
Titanium White (Gamblin)
Brilliant Yellow Light (Richeson)
Luminous Opera (Holbein Duo Aqua Oil)
Caucasian Flesh Tone (Gamblin)
Luminous Yellow (Holbein Duo Aqua Oil)
Indian Yellow (any brand)
Yellow Ochre (any brand)
Terre Verte (Gamblin)
Sap Green (Gamblin
Ultramarine Blue (Gamblin)
Cobalt Blue (Winsor Newton)
Lavender (Holbein Duo Aqua Oil)
Dioxazine Purple (any brand)
Alizerin Crimson (Gamblin)
Burnt Carmine (Rembrandt)
Burnt Sienna (Gamblin)
Raw Umber (Gamblin)
Payne's Grey (Gamblin)
Cadmium Red (Gamblin)
Ivory Black (Gamblin)
-MEDIUM and SOLVENT:
Neo Megilp (Gamblin)
Gamsol (Gamblin)
Chelsea Classical Studio FAT medium
One small jar with lid for solvent (I recommend Martinelli's Apple Juice Jars)
-BRUSHES: you're welcome to bring whatever brushes you have, but please include the following:
Three #6 (size) Synthetic soft bristle Filberts
Four #4 Filberts
Four #2 Filberts
Six #1 Filberts
Palette:
A re-sealable "Masterson" palette lined with glass is what I use. I recommend it because you can put it in the freezer and keep your paints workable for weeks.
Glass for palette: https://newwaveart.com/collections/posh-glass
Palette Knives: Small to medium metal palette knives
Other Things:
Apron or paint smock/clothes
Rags/papertowels