Figurative Fragments Workshop
$

650.00
Sold out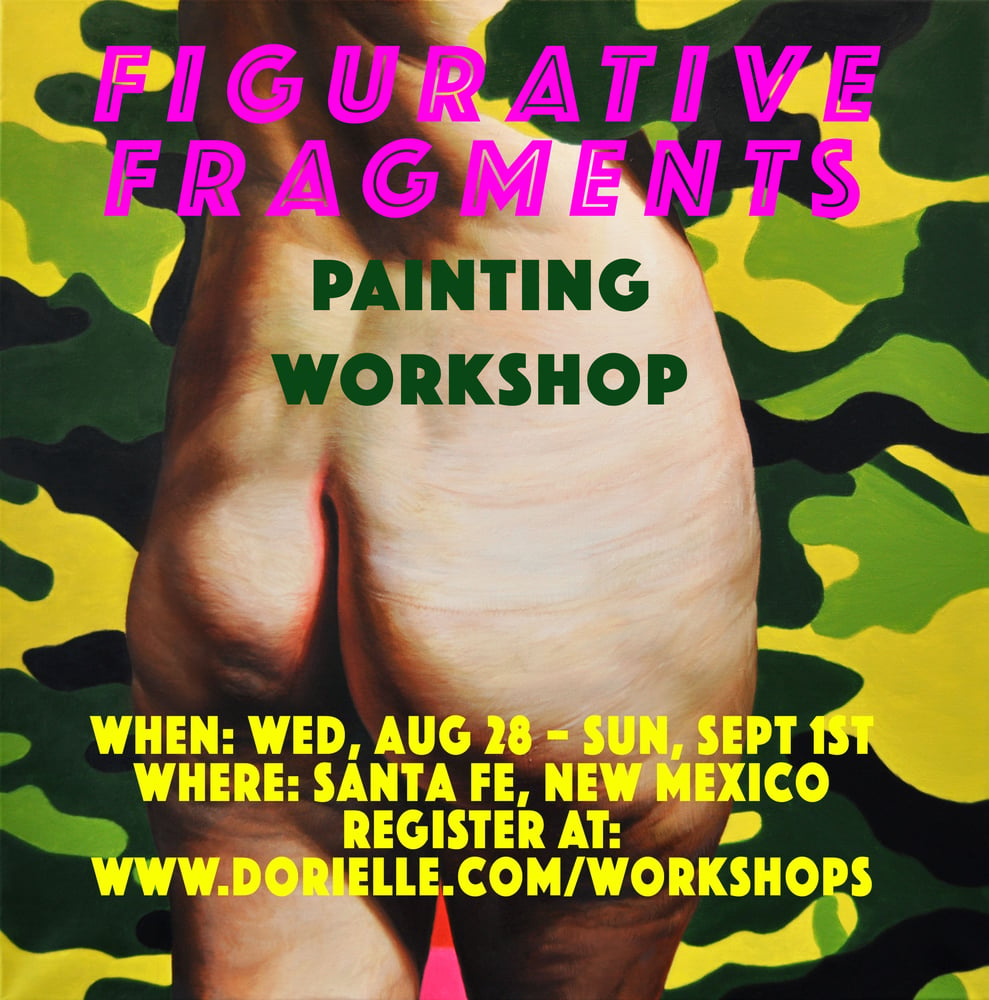 DESCRIPTION
In this 5-day intensive figurative painting workshop, students will have the opportunity to explore the animate qualities of oil paint in representing the human body within a contemporary context. The workshop will begin with sketches of the students' ideas. These will be loose, gestural drawings of the overall ideas the students wish to execute.
These sketches will include portions of the anatomical body (legs, eyes, ears, face, stomachs, etc.). Dorielle will be taking reference photos and will also have images to work from. The idea is that the students will learn how to set beautifully-painted aspects of the figure in a dream-like setting filled with color, texture, symbolism, light, and hopefully, a psychological reveal.
The goals of this workshop are to educate students to hone their abilities to see and paint representationally, as well as to help them delve into the complexities and transcendent possibilities of contemporary painting.
This workshop includes a lecture, a demo, one-on-one guidance, and, as always, coffee/tea and snacks. All levels are welcome! (must be 18 and up)
Spaces Available: 6
Dates:
Wednesday, August 28 – Sunday, September 1st
Workshop Schedule:
Wednesday, 12pm - 4pm: Meet and Greet, Lecture, Idea Brainstorm Session, Photoshoot, Preliminary Sketches, Workspace set-up, and Image Transfer
Thursday, 10am-3pm: Painting
Friday, 10am-3pm: Painting
Saturday, 10am-3pm: Painting (Evening: Fiestas de Santa Fe (Burning of Zozobra!): https://www.newmexico.org/event/fiestas-de-santa-fe/4339/)
Sunday, 10am-4pm: Painting and Critique Session
REFUND NOTES: PayPal takes a fee of ~$13. So if you need a refund for any reason, the fee will be deducted from your original purchase amount. Sorry for the inconvenience.
Workshop Price: $650
Location: Santa Fe, NM (at the Santa Fe Lofts)
For Inquiries and Questions Contact:
Dorielle Caimi
[email protected]
SUPPLY LIST:
NOTE: Santa Fe has an incredible art store called Artisan Santa Fe. You can get most of your supplies here if you need to. It is not permitted to fly with solvent, so I will have solvent here.
-IPAD or LAPTOP (some sort of screen to work from)
-PENCILS, KNEADED ERASER, and SKETCH BOOK
-CANVAS (size suggestion: approximately 30" x 24") NOTE: please arrange a way to transport your painting home bearing in mind that they will be wet.
-SUGGESTED OIL PAINTS (suggested brands are in parentheses):
Titanium White (Gamblin)
Luminous Opera (Holbein Duo Aqua Oil)
Caucasian Flesh Tone (Gamblin)
Luminous Yellow (Holbein Duo Aqua Oil)
Indian Yellow (any brand)
Yellow Ochre (any brand)
Terre Verte (Gamblin)
Sap Green (Gamblin
Ultramarine Blue (Gamblin)
Cobalt Blue (Winsor Newton)
Lavender (Holbein Duo Aqua Oil)
Dioxazine Purple (any brand)
Alizerin Crimson (Gamblin)
Burnt Carmine (Rembrandt)
Burnt Sienna (Gamblin)
Raw Umber (Gamblin)
Payne's Grey (Gamblin)
Ivory Black (Gamblin)
-MEDIUM and SOLVENT:
Neo Megilp (Gamblin)
Gamsol (Gamblin) **WILL BE PROVIDED**
One small jar with lid for solvent (I recommend Martinelli's Apple Juice Jars)
-BRUSHES (Feel free to bring any brushes you have or favor, but I strongly recommend filberts):
Three #6 (size) Filberts (synthetic soft bristles are fine)
Two #4 Filberts
Four #2 Filberts
A few small Round brushes sizes 2-8
A blending mop
A #16 Flat brush
An assortment of hogs hair brushes for blending

Palette:
A re-sealable "Masterson" palette lined with glass is what I use. I recommend it because you can put it in the freezer and keep your paints workable for weeks.
Palette Knives: Small to medium palette knives
Other Things:
Apron or paint smock/clothes
rags
TESTIMONIALS from past Workshops:
"[Dorielle's] workshop taught me so much, both in regards to painting and myself. Within such a short time, I was able to understand the fundamentals of oils enough to execute a reasonable portrait, even without any prior experience. Her passion for painting and passing on what she knows made me feel so welcomed. The experience also emphasized that new things are usually not as intimidating as they can seem to be. Just have to start." -Sarah
"Here's my testimony for the September fall workshop: it was awesome! Even though I didn't get to finish my painting, I felt like I gained a lot of tricks and techniques that I incorporate into my own painting practice today. From helping me mix paint to watching Dorielle paint over some of my own painting, I think I learned very valuable insider knowledge as well. Also, Albuquerque was a very fun place and I met tons of great people and artists." :-) -Natalie
"Where to start? My weekend workshop with Dorielle far exceeded any expectation I could have had. From emailing with her beforehand regarding my ideas with questions about how to execute were followed up with the most thoughtful (and helpful) responses. The workshop itself was very well organized (with yummy snacks!), and Dorielle was very good about communicating early on what supplies were needed, where the studio was located (with a photo to help the directionally-challenged people like myself), as well as places to stay in the area. The workshop itself was utterly priceless! She gave so much of herself, her time, and energy, I couldn't possibly have gotten anything more from the class. The workshop started with a lecture detailing what/whom inspires her art, and she guided us through the whole process from reference photos to critique where we discussed our process. I came home already fearlessly planning my next project, and I have so many new techniques and mediums at my disposal. I will absolutely be back. And Albuquerque is pretty fun, too! 10/10, do recommend!" -Danielle
"Dorielle Caimi's workshop was nothing short of amazing on so many different levels for me. Dorielle was very patient and equally as hands-on helpful, which I appreciated, as I am a new painter. Her setup and itinerary is perfect for her turnout. She is also good at explaining step-by-step processes and is careful to make sure all her students are getting an equal amount of one-on-one time, which I appreciated and loved. She is an amazing teacher, and an all-around doll. I plan on making these workshops with Dorielle a regular part of my artistic journey. I recommend this for all who want to take it to the next level. You will not be disappointed!!!!" -Joe